Dark Roads: A Novel (CD-Audio)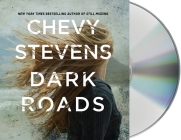 $39.99
Email or call for price.
Description
---
"Chevy Stevens is a brilliant and unique talent and Dark Roads is an instant classic. My hat's off to her." — C. J. Box, #1 New York Times bestselling author of Long Range

"Dark Roads is an entertaining thriller whether you read it or listen to it!" - Toronto.com

The Cold Creek Highway stretches close to five hundred miles through British Columbia's rugged wilderness to the west coast. Isolated and vast, it has become a prime hunting ground for predators. For decades, young women traveling the road have gone missing. Motorists and hitchhikers, those passing through or living in one of the small towns scattered along the region, have fallen prey time and again. And no killer or abductor who has stalked the highway has ever been brought to justice.

Hailey McBride calls Cold Creek home. Her father taught her to respect nature, how to live and survive off the land, and to never travel the highway alone. Now he's gone, leaving her a teenage orphan in the care of her aunt whose police officer husband uses his badge as a means to bully and control Hailey. Overwhelmed by grief and forbidden to work, socialize, or date, Hailey vanishes into the mountainous terrain, hoping everyone will believe she's left town. Rumors spread that she was taken by the highway killer—who's claimed another victim over the summer.

One year later, Beth Chevalier arrives in Cold Creek, where her sister Amber lived—and where she was murdered. Estranged from her parents and seeking closure, Beth takes a waitressing job at the local diner, just as Amber did, desperate to understand what happened to her and why. But Beth's search for answers puts a target on her back—and threatens to reveal the truth behind Hailey's disappearance…

A Macmillan Audio production from St. Martin's Press

"Dark Roads is a chilling, pulse-pounding thriller that also tugs at the heartstrings. It's everything you've come to love from a master of the psych thriller genre!" -- Mary Kubica, New York Times bestselling author of The Other Mrs.

"My favorite Chevy Stevens book since Still Missing. Stevens reliably creates complex, resilient female characters, and Hailey and Beth - whose lives collide in Dark Roads - are utterly compelling. The suspense builds with every page, and the ending is a complete shocker." -- Sarah Pekkanen, #1 New York Times Bestselling Author of The Wife Between Us
About the Author
---
CHEVY STEVENS lives on Vancouver Island with her husband and daughter. When she isn't working on her next book, she's hiking with her two dogs on her favorite mountain trails and spending time with her family. Chevy's current obsessions are vintage Airstreams, Hollywood memoirs, all things mid-century modern, and stand-up comedians--not necessarily in that order. Her books, including Still Missing, a New York Times bestseller and winner of the International Thriller Writers Award for Best First Novel, have been published in more than thirty countries.

Brittany Pressley is an Audiofile Earphones award winning narrator in NYC. She has recorded over 100 titles and has received several nominations for American Library Association's annual list of Amazing Audiobooks for Young Adults. She is also an accomplished singer/songwriter and voice actress. Her voice can be heard on national and international TV and radio commercials as well as several animated series and video games. She is a proud graduate of Columbia University.