Alone: Lost Overboard in the Indian Ocean (CD-Audio)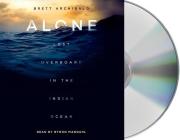 $45.99
Email or call for price.
Description
---
"Solitude is terrifying and awe-inspiring in Alone." —The Wall Street Journal

Alone is an intense audiobook that will push listeners to face their deepest fears and realize the human capacity for survival.

In April 2013, fifty-year-old Brett Archibald was on board a surf-charter boat, making a night-time crossing of the remote Mentawai Strait off Sumatra, Indonesia. In the middle of a storm, ill with severe food poisoning, he blacked out. When he came to, he found himself in the raging sea, sixty miles from shore. As Brett saw the lights of his boat disappearing into the darkness, it became clear that no one had seen him fall, and that no one would hear his shouts for help. He was alone in the ocean.

It would be eight hours before his friends realized he was missing. At that point a frantic search began for a single man somewhere in thousands of square miles of heaving waves. The rough weather meant that no planes or helicopters could assist in the search. According to the experts, he should have died within ten to fourteen hours.

Instead, Brett battled Portuguese man o' war and jellyfish, sharks, seagulls, and the stormy seas for more than 28 hours. Alone is the remarkable tale of his miraculous survival and rescue. It is also the story of what it takes to defy extraordinary odds and the incredible power of the human spirit.

More praise for Alone:

"A gripping and sometimes emotionally draining account of survival against almost insurmountable odds. Archibald is a graceful storyteller, as adept at describing the physical challenges of staying alive (such as, for example, a brush with a shark) as he is at describing the mental challenges." — Booklist

"This survival tale pairs action with emotion and feels ready made for the big screen." — Publishers Weekly
About the Author
---
Brett Archibald is an international businessman and entrepreneur who built an impressive global career that included directorship positions with a worldwide hospitality and travel corporations in Johannesburg, Sydney, Hong Kong and London. He now lives in Cape Town, South Africa, where he is the chairman and shareholder of an event and hospitality company. Alone: Lost Overboard in the Indian Ocean is his autobiographical narrative about surviving 28 hours in the sea by himself.
Praise For…
---
"This survival tale pairs action with emotion and feels ready-made for the big screen." —Publishers Weekly