The Summer I Met Jack: A Novel (CD-Audio)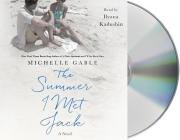 Please call 732-747-9455 or email us at riverroadbooks@verizon.net for price.
Description
---
In this scintillating audiobook from New York Times bestselling author Michelle Gable, listeners are asked to imagine the affair between John F. Kennedy and Alicia Corning Clark - and the child they may have had.
In 1950, a young, beautiful Polish refugee arrives in Hyannisport, Massachusetts to work as a maid for one of the wealthiest families in America. Alicia is at once dazzled by the large and charismatic family, in particular the oldest son, a rising politician named Jack.
Alicia and Jack are soon engaged, but his domineering father forbids the marriage. And so, Alicia trades Hyannisport for Hollywood, and eventually Rome. She dates famous actors and athletes and royalty, including Gary Cooper, Kirk Douglas, and Katharine Hepburn, all the while staying close with Jack. A decade after they meet, on the eve of Jack's inauguration as the thirty-fifth President of the United States, the two must confront what they mean to each other.

The Summer I Met Jack is based on the fascinating real life of Alicia Corning Clark, a woman who J. Edgar Hoover insisted was paid by the Kennedys to keep quiet, not only about her romance with Jack Kennedy, but also a baby they may have had together.
About the Author
---
New York Times
bestselling author of
A Paris Apartment
, MICHELLE GABLE graduated from The College of William & Mary. When not dreaming up fiction on the sly, she currently resides in Cardiff by the Sea, California, with her husband, two daughters, and one lazy cat.
Ilyana Kadushin is best known for her narration of the Twilight audiobook series, and has worked on other audiobooks, including The Memory Keeper's Daughter, Post Grad and Dune, which won an Audie Award. Her other voice work includes national commercials, animation, and popular video games such as Lord of the Rings.
Kadushin has performed as both an actor and a singer for companies including Nickelodeon, BBC America, Sesame Street Television, MTV, and Cartoon network. She sang on the soundtrack of HBO Best Documentary Film Award & Finalist Separate But Equal.
Praise For…
---
Praise for The Book of Summer:

"A sure bet for women's-fiction fans of Elin Hilderbrand and Nantucket novels." —Booklist
"Gable cleverly illuminates the past, revealing how it mirrors the present. This is a splendid multigenerational novel about the strength of the women of Cliff House." —Publishers Weekly

"Gable develops fully rounded characters that readers feel as if they could reach out and touch. We want to know more about them and Gable gives us plenty." —Richmond Times-Dispatch

"These laid-back books epitomize the term 'beach read.'" —Coastal Living
"A must for any summer reading list." —The Boston Herald

"This time of year is meant for books to devour. Vacations, the beach, lazy afternoons all call for a good book that allows you to escape. Michelle Gable knows how to deliver." —Newport News Daily Press
"It's Gable's ability to weave a family's tale through the musings of summer visitors, war, relationship drama and a smattering of sexual tension that makes it a must for any summer reading list." —Fort Worth Star- Telegram
"A deep look at the strength of women, this will tantalize readers as they, along with Bess, learn of her family." —Parkersburg News + Sentinel